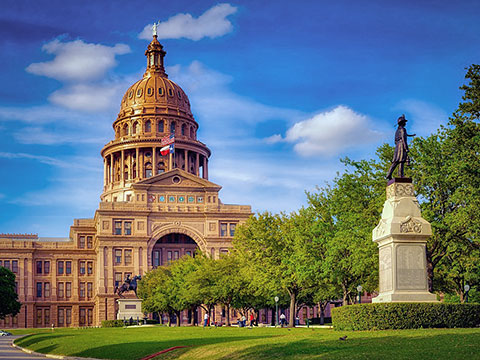 Austin is a city of over 981,000 in the Hill Country of central Texas. It is the state capital and home to a major university as well as an influential center for politics, technology, music, film and (increasingly) a food scene. Austin's embrace of alternative cultures is commonly emblazoned about town on T-Shirts and bumper stickers that read: "Keep Austin Weird." Austin is also marketed as the "Live Music Capital of the World" due to the large number of venues and "Silicon Hills" reflecting the many technology companies.
Being the capital of Texas has resulted in a rich history for Austin. Established in 1839 by the then recently formed Republic of Texas, Austin is located on the Colorado River and the edge of the Texas Hill Country. The city was named for Texas founder Stephen F. Austin after Texas President Mirabeau B. Lamar selected the site due to the area's abundant natural resources, beauty and central location in the state. Because of its unprotected geographical location, Austin's early years consisted of many raids from Mexican troops and Native Americans unhappy with Texas.
The town was laid out and constructed using temporary buildings in less than one year, as planner Edwin Waller was committed to having the town ready by November 1839 when the Texas Congress convened. Congress and the 856 people who inhabited Austin were certainly impressed, as they elected Waller the first mayor of Austin January 1840.
Climate
Central Texas winters are short to non-existent. There are many pleasant or even warm days during the winter months (the first 90-degree day of 2012 was in February), and snowfall is rare. However, hard freezes happen occasionally, and light freezes may occur frequently (especially in the more rural areas), and when this mixes with precipitation, ice storms and other wintry weather happen. If the storm is severe enough, the city may shut down for a day or so, traffic may be snarled, and the local auto body shops may receive a spike in business. The Austin area usually experiences such events once or twice each year or so, from late December to mid-February. Generally, though, winter weather just varies a lot, with alternating cold and warm fronts that can make for large temperature swings within just a week's time.
Population
People in Austin value their quality of life, access to outdoor activities, access to live music and entertainment, education and government access. With the University of Texas at Austin being the largest University in the state of Texas as well as one of the largest universities in the country, many students choose to stay in Austin after graduation, thanks to the quality of life they grow accustomed to during their collegiate years. Technology-related majors and degrees have increased in number as students plan to stay in Austin after obtaining their degree.