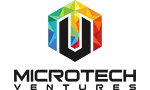 Microtech Ventures, Inc.
550 Merrill Street, Suite 240
Birmingham, MI 48009 USA
info@microtechventures.com
microtechventures.com
Microtech Ventures is focused on strategic venture capital, angel investing, and M&A advisory services. Our mission is to accelerate the development of sensors, MEMS, and microtechnologies for the advancement of civilization and creation of market value. Our deep industry knowledge and extensive network, combined with practical hands-on strategy experience, enables us to quickly identify the connections that result in multiple opportunities to maximize ownership value, and ensure successful outcomes.